I've added the ability to create a public profile on the site. This lets you specify your contact info on various other websites and provide a little information about yourself. You can choose to have your profile visible just to Pinboard users or to the entire Internet.
Here's what mine looks like: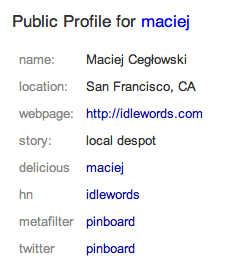 The purpose of these profiles is to let people find one another on the site and build (or re-build) their networks. Naturally, like all social features on Pinboard, this one is strictly opt-in. If you'd like to create your own profile, go to settings -> privacy and click the friendly checkbox. You'll see a new 'profile' tab appear in your navigation bar.
And if you're curious, you can find a full list of users with profiles on the pinboard.in/directory page. I've been getting a big kick out of the variety of people and responses showing up there.
—maciej on November 03, 2011
Pinboard is a bookmarking site and personal archive with an emphasis on speed over socializing.
This is the Pinboard developer blog, where I announce features and share news.
How To Reach Help
Send bug reports to bugs@pinboard.in
Talk to me on Twitter
Post to the discussion group at pinboard-dev
Or find me on IRC: #pinboard at freenode.net